2nd Annual A Fishy Affair: Malicious...but Delicious!
Gray's Reef National Marine Sanctuary Foundation hosted the sold out 2nd Annual 'A Fishy Affair: Malicious...but Delicious' on Friday, September 23. The lionfish Chef's challenge sold out quickly and featured five incredible chefs preparing their own unique lionfish dish. Over 250 diners enjoyed 425 pounds of Lionfish to help continue the movement for restaurants to serve Lionfish and for the community to support Gray's Reef.  A raffle, live auction, short lionfish film, lionfish cake, live lionfish, and signature cocktail were featured at the entertaining and educational evening that raised over $34,000! Thank you for your support!!
Thank you to our five incredible Chefs:
Chef Sam Brod, The Landings Club
Chef Kyle Jacovino, The Florence
Chef Lauren Teague, Atlantic
Chef Kevin Walker, Grandfather Golf & Country Club
Chef Jin Kang, The Landings Club
Raffle items included a weekend on Tybee, fishing gear, signed ocean books, underwater images, and interesting items representing the 14 national marine sanctuaries around the US. 
Live Auction items included generous Chef packages from The Landings Club, The Florence, and an evening for 20 of your friends at a new restaurant opening soon, Atlantic!
All proceeds benefited Gray's Reef National Marine Sanctuary Foundation to support ocean conservation, education, and Georgia's own National Marine Sanctuary! A portion of the ticket is tax-deductible.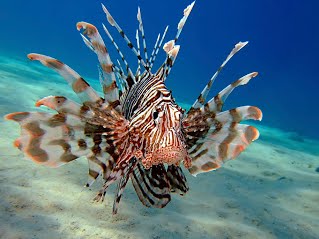 The Lionfish is native to the tropical waters of the South Pacific and Indian Oceans. They are popular in home aquariums, but are now invading ecosystems throughout the Atlantic coast and Caribbean. Lionfish damage our ocean by eating up to 20 small fish per day. With a very quick reproduction rate and no natural predators in Atlantic waters, they have multiplied quickly and threaten the natural biodiversity that provide economic and recreational opportunities. While completely removing lionfish from Atlantic and Caribbean waters is unlikely, reducing their numbers is critical to our ocean and for Gray's Reef.
Thank you to our generous sponsors! A Fishy Affair was sponsored in part by:
     Cathy J. Sakas                  Sarah Fangman & Greg McFall                        Dr. Barbara Phillips