14th annual Gray's Reef Film Festival!
Thursday, February 2 - Sunday, February 5, 2017 
in Savannah AND now, on Tybee Island!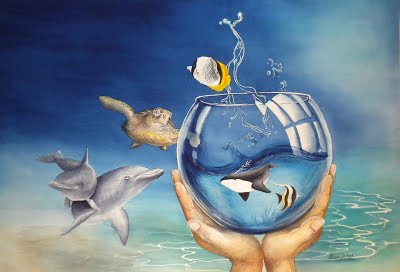 Save these dates!
Last year we brought Savannah's first underwater 3D films to town and it was a smashing success. So, we've added a second full night of films, both nights will be at the Trustees Theater!
And...
 we're presenting a Sunday matinee at the Tybee Post Theater with award winning films courtesy of the San Francisco Ocean Film Festival. 
This year's festival will again feature inspiring films from local, national, and emergin
g filmmakers with the aim to instill marine conservation and 
ocean stewardship
 in Georgia's coastal residents. These
 films allow us to explore the creatures and beauty of the sea, the complexity of the marine ecosystem, and our maritime heritage.
We believe our relationship with the ocean is crucial to sustaining a healthy environment for Georgia's underwater treasure: Gray's Reef. Therefore, our theme this year is "Our Community, Our Ocean." In what ways do we impact the ocean? In what ways does the ocean influence our community? 
And, on the live entertainment front, you won't want to miss this year's VIP Founders' Party. If the techno-gods are with us, YOU will come as close to experiencing a dive on Gray's Reef as is possible without getting wet! Want a hint? Okay, what comes between 3D and actual reality? 


Check out this year's film schedule and trailers
Register for shows and tickets to GRFF events! 
(For the best deal, scroll to the bottom and sign up for a full Festival Package)
We'll be featuring our sponsors here starting in January. So, if you'd like to join us, either as a business or individual sponsor, please visit our 
Sponsorship Opportunities Program
In 2016, the festival drew a wide audience of over 2,500 attendees. Now in our 14th year, Gray's Reef National Marine Sanctuary and the Gray's Reef National Marine Sanctuary Foundation are once again teaming up to share the wonders of the sea with Savannah and audiences from across Coastal Georgia. Check back in January for more details and don't forget, you can stay in touch with Gray's Reef foundation by subscribing to our newsletter or make a donation to support local stewardship of our great ocean! And don't forget to visit us on Facebook!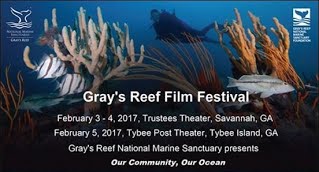 All Gray's Reef Film Festival proceeds benefit Gray's Reef NMSF with the following suggested amounts:
Friday, Saturday, and Sunday matinee film showings: $10 adults, $5 children 
Thursday VIP Founders Party at 24e: $60
Saturday night After Party at 45 Bistro: $25
Sunday Sunset Wrap Party at North Beach Bar & Grill: $25